Overview
The plantar fascia is a thickened fibrous aponeurosis that originates from the medial tubercle of the calcaneus, runs forward to insert into the deep, short transverse ligaments of the metatarsal heads, dividing into 5 digital bands at the metatarsophalangeal joints and continuing forward to form the fibrous flexor sheathes on the plantar aspect of the toes. Small plantar nerves are invested in and around the plantar fascia, acting to register and mediate pain.
Causes
Repeated small injuries to the fascia (with or without inflammation) are thought to be the cause of plantar fasciitis. The injury is usually near to where the plantar fascia attaches to your heel bone. You are more likely to injure your plantar fascia in certain situations. For example, if you are on your feet for a lot of the time, or if you do lots of walking, running, standing, etc, when you are not used to it. (Plantar fasciitis may be confused with 'Policeman's heel', but they are different. Policeman's heel is plantar calcaneal bursitis - inflammation of the sack of fluid (bursa) under the heel bone. This is not as common as plantar fasciitis.) Also, people with a sedentary lifestyle are more prone to plantar fasciitis. If you have recently started exercising on a different surface, for example, running on the road instead of a track. If you have been wearing shoes with poor cushioning or poor arch support. If you are overweight this will put extra strain on your heel. If there is overuse or sudden stretching of your sole. For example, athletes who increase running intensity or distance; poor technique starting 'off the blocks', etc. If you have a tight Achilles tendon (the big tendon at the bottom of your calf muscles above your heel). This can affect your ability to flex your ankle and make you more likely to damage your plantar fascia. Often there is no apparent cause for plantar fasciitis, particularly in older people. A common wrong belief is that the pain is due to a bony growth or 'spur' coming from the heel bone (calcaneum). Many people have a bony spur of the heel bone but not everyone with this gets plantar fasciitis.
Symptoms
Symptoms of plantar fasciitis can occur suddenly or gradually. When they occur suddenly, there is usually intense heel pain on taking the first morning steps, known as first-step pain. This heel pain will often subside as you begin to walk around, but it may return in the late afternoon or evening. When symptoms occur gradually, a more long-lasting form of heel pain will cause you to shorten your stride while running or walking. You also may shift your weight toward the front of the foot, away from the heel.
Diagnosis
After you describe your symptoms and discuss your concerns, your doctor will examine your foot. Your doctor will look for these signs. A high arch, an area of maximum tenderness on the bottom of your foot, just in front of your heel bone. Pain that gets worse when you flex your foot and the doctor pushes on the plantar fascia. The pain improves when you point your toes down. Limited "up" motion of your ankle. Your doctor may order imaging tests to help make sure your heel pain is caused by plantar fasciitis and not another problem. X-rays provide clear images of bones. They are useful in ruling out other causes of heel pain, such as fractures or arthritis. Heel spurs can be seen on an x-ray. Other imaging tests, such as magnetic resonance imaging (MRI) and ultrasound, are not routinely used to diagnose plantar fasciitis. They are rarely ordered. An MRI scan may be used if the heel pain is not relieved by initial treatment methods.
Non Surgical Treatment
You may experience concern in reading about treatment options for this condition that involve taking medications, having injections or undergoing surgery. While these remedies may be necessary in some cases, there are natural, non-invasive, affordable methods for treating and healing Plantar Fasciitis. A simple, three-step approach may be all you need to experience immediate or rapid symptom relief. Step 1) Give Your Feet A Rest. When a ligament is stressed and inflamed, it is absolutely essential to take pressure off it and let it rest. Adjust your daily habits to spend some time each day off your feet. Step 2) Ice Brings Cooling Relief. Apply an ice bag or cold pack to your heel for twenty minutes, twice a day. This will numb soreness and help control inflammation. Step 3) Gain Support From Orthotics. Orthotics are devices designed to modify body motions or lessen pressure on areas of the body. In the case of foot orthotics, these products may include splints, wraps and shoe inserts.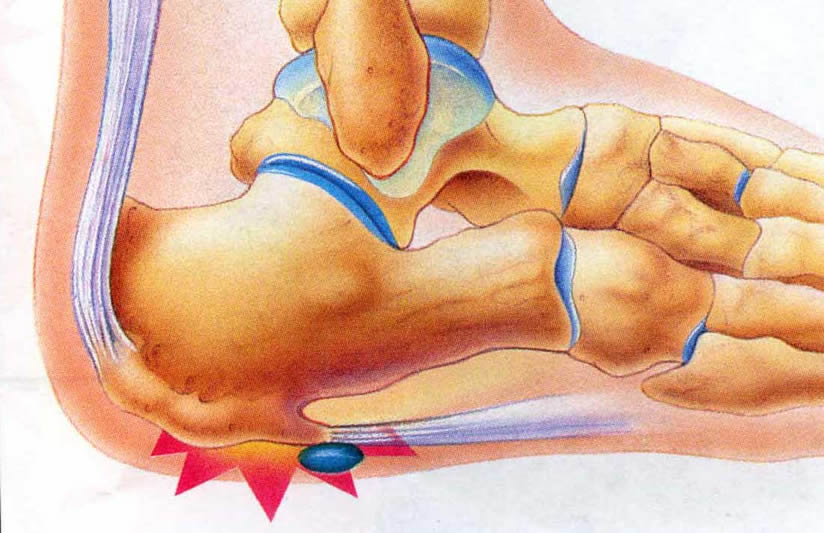 Surgical Treatment
Most practitioners agree that treatment for plantar fasciitis is a slow process. Most cases resolve within a year. If these more conservative measures don't provide relief after this time, your doctor may suggest other treatment. In such cases, or if your heel pain is truly debilitating and interfering with normal activity, your doctor may discuss surgical options with you. The most common surgery for plantar fasciitis is called a plantar fascia release and involves releasing a portion of the plantar fascia from the heel bone. A plantar fascia release can be performed through a regular incision or as endoscopic surgery, where a tiny incision allows a miniature scope to be inserted and surgery to be performed. About one in 20 patients with plantar fasciitis will need surgery. As with any surgery, there is still some chance that you will continue to have pain afterwards.
Prevention
Being overweight can place excess pressure and strain on your feet, particularly on your heels. Losing weight, and maintaining a healthy weight by combining regular exercise with a healthy, balanced diet, can be beneficial for your feet. Wearing appropriate footwear is also important. Ideally, you should wear shoes with a low to moderate heel that supports and cushions your arches and heels. Avoid wearing shoes with no heels.